About SERVPRO of Santa Cruz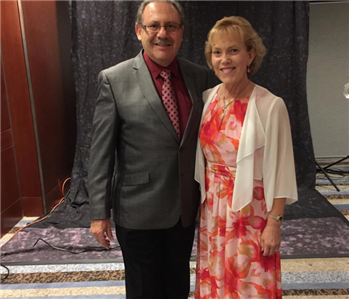 Vince & Sharon D'Andrea
Owners of SERVPRO of Santa Cruz
Why should I call SERVPRO of Santa Cruz when my home or business sustains damage from fire or water? There are many reasons but here a few
The first reason is we really care and want to help - The Owners of SERVPRO of Santa Cruz, Sharon & Vince D'Andrea, have been living and working in Santa Cruz County for 35 years. We love to help the community and we love this beautiful stretch of Coastal California that we call home. Even though we are part of a National Franchise System, we truly are a locally owned and operated business. We also understand the stress and worry that comes with a fire or water damage and the disruption it causes to your life, home, or business.
The second reason is we have the experience - We have been providing Fire and Water - Cleanup and Restoration as a SERVPRO Franchise since 2001 and before that as an Independent Contractor. We have an IICRC Master Fire & Smoke Restorer, Master Textile Cleaner, Master Water Restorer and a General Contractor on staff. We also have an American Council for Accredited Certification (ACAC) Board Certified, Microbial Remediation Supervisor. We want you to feel confident that you have chosen a Provider that really cares and can provide you with the Professional Services you need for complete satisfaction. SERVPRO of Santa Cruz is here to help make it "Like it never even happened".
The third reason is our friendly staff - Our Department Managers, Office Staff, Crew Chiefs and Technicians take ownership of their responsibilities. They care very much about the Services we provide and want to help our clients by making the process as seamless as possible. One of our On-Call Managers are available 24/7/365, ready to respond to your needs, dispatch our On-Call Technicians and be the "go to person" for you after hours. During hours our friendly Office Staff will answer any questions you have and connect you with the Manager that is assigned to your loss. Although it is our Company Culture to care and want to help our clients, we could not have that Culture without the right people. We are fortunate to have a staff that cares about our clients and sincerely wants to help them. They also care very much about the work they perform and have the high level of professionalism necessary to empathize with our clients during the challenging time of experiencing a loss.
The fourth reason is our commitment to the intrinsic values that breed trust and confidence - When a client is experiencing a water or a fire damage, the feelings of stress and vulnerability can be overwhelming. Your home, belongings and privacy seem to be invaded. Our personnel know the importance of not taking liberties in your home and allowing you to make informed decisions about the proposed work to mitigate your loss. This includes respect when you are making decisions about the disposition of your possessions. We will provide our professional recommendations, but ultimately, will leave you in control of the final decision of the repairs being made to your home and the disposition of your belongings. Our commitment is to convey a sense of trust, honesty and integrity to our clients so that they can get their life back to normal and feel confident that they made the right choice by having SERVPRO of Santa Cruz service them in their time of need.
A little bit about the owners - Sharon and Vince love to hike, attend music venues and enjoy fine dining on the Central Coast and Bay Area. Our favorite pass time is to spend time with our precious Granddaughters. They are the light of our lives. Sharon and I care for all in our community and engage in a community service work to help others improve their lives.
We thank our clients for helping us to live in this beautiful place and accomplish our goals!
Insurance and Payment Information
For a stress free claims process, SERVPRO works with your insurance to help manage the insurance process and paperwork.
We also accept the following credit cards for your convenience:




Certifications
AMRT - Applied Microbial Remediation Technician
ASD - Applied Structural Drying Technician
CCT - Carpet Cleaning Technician
CMRS - Council-certified Microbial Remediation Supervisor
CRT - Color Repair Technician
ECTP - Employee Certification Training Program
FSRT - Fire & Smoke Damage Restoration Technician
HST - Health and safety Technician
IICRC Certified Firm
LCT - Leather Cleaning Technician
MSR - Master Fire & Smoke Restorer
MTC - Master Textile Cleaner
MWR - Master Water Restorer
OCT - Odor Control Technician
OSHA - 10-hour General and/or Construction Industry Training Program
RCT - Rug Cleaning Technician
RRRP - Lead-Based Paint Activities and Renovation
RRT - Carpet Repair & Reinstallation Technician
UFT - Upholstery & Fabric Cleaning Technician
WRT - Water Damage Restoration Technician
Affiliations
SANTA CLARA CHAMBER OF COMMERCE
Santa Clara County Association of REALTORS®.
SANTA CRUZ CHAMBER OF COMMERCE